On Saturday, the crime branch and Sector 20 police arrested Mukul Garg, who was serving as assistant general manager (projects) at the company.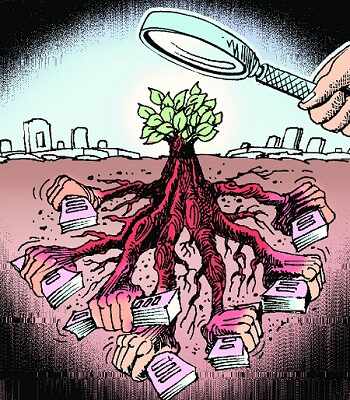 NOIDA: Police are likely to recommend attachment of the properties of jailed directors of real estate company Earth InfrastructuresLtd for an alleged fraud of nearly Rs 168 crore by creating different shell companies in the name of family members of different directors.
On Saturday, the crime branch and Sector 20 police arrested Mukul Garg, who was serving as assistant general manager (projects) at the company. Along with his friend Ratan Vijayvargiya, Garg allegedly created at least 10 shell companies to invest money from the projects of Earth Iconic Infrastructures Private Limited and Earth Infrastructure Private Limited, police said.
According to investigators, Mukul was arrested from the crime branch office around 12 noon on Saturday after he was called there for questioning on the scam during which he did not give satisfactory answers.
Funds worth Rs 23 crore have been diverted to companies like Aastha Fincap where both Mukul and Ratan serve as directors along with the kin of the four jailed managing directors of the company—Atul Gupta, Vikas Gupta, Awadhesh Goyal and Rajnish Mittal. The crime branch has found that the directors own properties like farm houses, shops and land, etc in different cities after diverting the funds from the buyers, which they will soon recommend for attachment. SP (crime) Ashok Kumar told TOI that Awadhesh owns a farm house in Bijwasan in Delhi and they will recommend the same for attachment soon, followed by other properties which come to light. Cops say that Garg and his associate Ratan Vijayvargiya transferred buyers' money to multiple shell companies formed in the names of the wives and relatives of the company's directors.
Singh said that the role of Garg and Vijayvargiya was to facilitate diversion of buyers' money to the shell companies, where the kin of the jailed managing directors were the directors. While the four main directors of the company are already lodged in Tihar jail, vice-president Amit Satija, who was arrested in August this year, has been lodged in Greater Noida's Luksar jail.
However, while the accused Bushra Alam is out on bail, Gagandeep Kaur has got a stay on arrest while Nishant Arora is absconding.
Different FIRs have been lodged under different police stations against the company management and at least four of these FIRs are being handled by the Noida crime branch. Earlier in August, the crime branch had arrested the vice-president of Earth Iconic Infrastructure Pvt Ltd, Amit Satija, on August 5.
Mukul has been arrested after at least two FIRs were lodged against the company in Sector 20 police station for duping investors after advertising for a housing project.
According to the FIR, the developer had advertised for the project- Earth Titanium Studios in Greater Noida's Techzone and had promised assured returns till the possession.
NEWS SOURCE: https://realty.economictimes.indiatimes.com/news